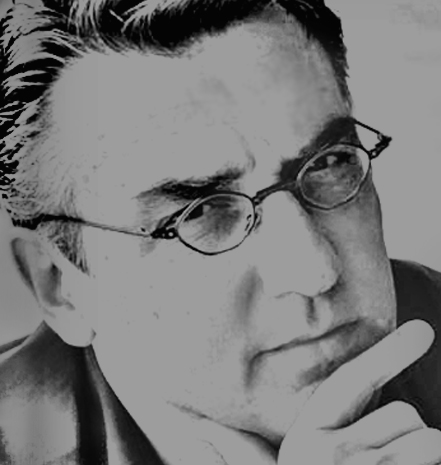 Kostis Georgiou was born in 1956, in Thessaloniki, Hellas. He currently lives and works in Athens, Hellas. He is deemed as one of the most important and distinguished male artists of the Hellenic contemporary art scene with his painting and sculptural work being evolved in parallel.
He studied painting and sculpture at the Athens School of Fine Arts (1982 – 1986), under professors Dimitris Mitaras and Dimosthenis Kokinidis, and in London, at the Royal College of Fine Arts(1985 – 1986), under professor Peter de Francia. He also studied stage scenery In Florence.
Between 1982-1988 he collaborated and worked as stage designer with major Hellenic theatre organizations, and the Hellenic Broadcasting Corporation (ERT), the state-owned public radio and television broadcaster for Hellas.
Between 1988-1990 he was teaching painting and scenography at the Hellenic Cinema and Television School Stavrakos (H.C.T.S.S.), in Athens.
He held a great number of solo exhibitions in Hellas and abroad such as in: Niederhauser Gallery, Lausanne, Switzerland (2004, 2001) | Cartel Galleries, Malaga, Granada, Spain (2002, 2000, 1998) | Titanium Gallery, Athens (2002. 1998, 1997, 1996, 1993, 1990) | Kouros Gallery, New York, USA (2001) | Barbara Von Stechow Gallery, Frankfurt Germany (1998) | Acro 97, Madrid, Spain (1997) | United Nations, Geneve, Switzerland (1993) | Tokyo Art Expo, Tokyo, Japan (1992) etc.
His work has also been presented in several national and international group shows, and he has participated in numerous international Art Fairs and group exhibitions.
Suzhou Museum, China | Benaki Museum, Athens, Hellas | Absolute Americana Art Gallery, Florida, USA | State Museum of Modern Art, Thessaloniki, Hellas | Bank of Piraeus, Athens, Hellas | Hellenic Ministry for Culture | Hellenic Ministry for Tourism | National Bank of Greece | Eurobank | Hellenic Postbank | National Museum of Art, Osaka, Japan | Hyogo Prefectural Museum of Modern Art, Kobe City, Japan | Museo Civico, Italy | Cyprus Red Cross Society, are only few of the venues Kostis Georgiou exhibited.
Additionally, he is greatly involved with public art, making art available to the general public. His paintings and monumental sculptures are located in public squares or at the exterior of private collections among which to be noticed the Commanderie de Peyrassol, a sculpture garden at a 1200s vineyard, in Provence, South of France.
He was granted with several awards nationally and internationally including: First Prize, XX International Premio di Sulmona, Italy | Special Distinction, Osaka Triennale 93, Osaka, Japan | Special Distinction, Young European Artists 1995, BP Collection Brussels, Belgium | Special Prize, Young European Artists 1992, BP Collection Brussels, Belgium.
In parallel with his artistic career, he was contributing a column for the weekly financial newspaper Kerdos (Sunday issue) by the name Kerdolagnos.
Remarkable is his presence in the Press since a wide record of articles extensively refers to him and his work.
Kostis Georgiou works are to be found in important private and public collections, in established museums, foundations, organizations and institutions throughout the world.
Curator's note: Design & Colour in Perfect Balance
Kostis Georgiou's both sculptural and painting work is characterized by a lively colour palette, distorted figures of people and animals, and a rather large scale of stature.
On one hand, colours liable to explode, intense compositions arranged by sudden outburst, with an unrestrained expression of emotion that extracts a rather dramatic expressionist style, rule his painting production. On the other, sculptures and installations intercede ingeniously in space where displayed, with their colouration being more consolidated.
Paintings and sculptures deploy in parallel within Kostis Georgiou oeuvre, interchange or, occasionally, render their presence essentially equal in the same setting via a resourceful way.
Kostis Georgiou belongs to this distinct generation of the '90s; a generation of creatives who experienced both the end of Cold War and the strain of the post era, but also the psychological consequences of the universal globalization that led them to redefine the movement of Expressionism by further reflecting its expressive power via more abstract mode and contemporary media.
Influences and effects absorbed by the social environment are transmitted and conveyed by Kostis Georgiou into thoughts, concerns and reflections through a totally personal artistic vernacular, indelibly charged with symbolic content. As a result, his act of creating ends up being transmuted into some kind of volatile manifestation.
A rather sensitive receiver himself of the existential agony of the man of modern society upon crucial matters of today's multifaceted reality, the artist goes under the formulation of a version of a specific type of Abstract Expressionism that allows him to deliver his personal emotional states.
Preferably deforming forms and intense colours sign this special treatise between the artist and the audience deconstructing any existing convention plus renewing all perspectives.
As noted above, throughout his artistic career, expressiveness and intensity dominate his painting compositions. Canvases full of emotional charge, symbolism, sentimental and colour tension fashion a sense of overpowering momentum that works alongside with a playful game of contrasts. Formalistic objects and unnatural forms, almost monstrous, transcribe, in terms of perspective, colour and space, the timeless formal stimuli into a context that is both physical and symbolic. In particular, his portraits, over the challenging use of the third dimension through the impression of some kind of distorting reflector, in addition to forceful, reckless and rough brushstrokes, seem to project – to the fullest – in the style of Francis Bacon.
Over the years, the subjects of his images gradually transform their descriptiveness, develop themselves into biomorphic net forms, and exacerbate even more the sense of reality. This shift is most clearly seen in his sculpture where the original balance is upset by the manneristic morphological plasticity of his human or animal figures which move away from any typical depiction, symmetry or constructivist geometry. Characteristically massive, as autonomous entities and organic independencies, giving the illusion of a permanently move, with curved, calm shapes and plastic volumes, or much more with asymmetrical profile and elongated corpus members, his sculptural figures ensure their social functioning within the civil space, though synchronously showcase a rather tense behaviour and dynamic action.
Nevertheless, the artist is very much into the concern of the human presence, its place and occupation within space and time. 'Space-time' pluralism and expressionistic challenges constitute defining features of his art through which he chooses to disrupt norms' conventions and unified structures, incorporating, quite often, lively, audacious and dynamic allusions. Even the colours Kostis Georgiou chooses enhance the distorted rendition of reality embedded in the artist's making process, offer thought-provoking starting points whilst creating powerful stimulations for the viewer.
With a great number of exceptional exhibitions (solo and group) around the world, and participations to important international Art Fairs and Shows, Kostis Georgiou -including his past and recent work- has continuously exhibited a master's skill for a distinctive artful personal technique, and an ingenious use of imagination, symbolism and metaphor.
Furthermore, noteworthy is the artist's involvement with public art. A variety of sculptural works situated in internal or external public venues subsidize the evolution of culture as they contribute to an increasing volume to the expansion of the field of arts practice. Being there for everyone, they occupy a unique position within the city life, reflect the community values, and noiselessly eavesdrop the pulse of the society as a whole.
Undoubtedly, every public art project of Kostis Georgiou is an interactive process involving all, since public role and participation constitutes essential parameter. One person at time, the awareness and appreciation of the art of sculpture flourish every day in the eyes of the general public.
All people, even those who aren't familiar with art, have the chance to be inspired, intrigued, motivated and provoked by the artist's reputable public art-oriented and mission-specific creations around the globe.
On the whole, by inverting both his aesthetic approaches, painting and sculpture, into an abstract-expressionist, sharply contrasted and impactful scheme, it is of upmost challenge that Kostis Georgiou opposes any stereotypical satisfaction, and pursues to invite the audience to an alternative sort of apprehension. In this context, both approaches quite often transact with one having an exert influence and effect over the other in a meticulously charismatic way, with the viewers being on the receiving end of so fruitful an interaction.
Painting – Sculpture
"AENAON" Video Art
SOLO EXHIBITIONS – SELECTION
2019 SISMANOGLIO MEGARO – ISTANBUL
2019 TELOGLION FOUNDATION OF ART A.U.TH.-THESSALONIKI
2017 ART THESSALONIKI – AGATHI KARTALOS GALLERY
2017 C. JOHN GALLERY – LONDON – UK
2016 ALPHA CK ART GALLERY- -NICOSIA – CYPRUS
2015 MX GALLERY – MONTREAL – CANADA
2015 MORFI GALLERY – LIMASSOL – CYPRUS
2015 ART ATHINA 2015 – ALPHA CK ART GALLERY – ATHENS
2014 MUSEE ABBEYE DE NEUMUNSTER-LUXEMBOURG
2014 BENAKIS MUSEUM-ATHENS
2013 MUSEE ANGLET- VILLA BEATRIX ENEA-FRANCE
2013 ALPHA CK ART GALLERY-NICOSIA-CYPRUS
2013 CENTRE CULTUREL UCCLE- BRUSSELS-BELGIUM
2013 HILTON ASMUS GALLERY- CHICAGO- USA
2012 SHAANXI ART MUSEUM-CHINA
2012 SUZHOU MUSEUM-CHINA
2011 FEIZI GALLERY-SHANGHAI-CHINA
2011 "M" GALLERY-VIENNA-AUSTRIA
2011 MORFI GALLERY-LIMASSOL-CYPRUS
2011 ART ATHINA 2011-SCULPTURES-TITANIUM GALLERY-ATHENS-
GREECE
2011 CK GALLERY-NICOSIA-CYPRUS
2010 "TRACES" 45th DIMITRIA- CASA BIANCA MUSEUM- THESSALONIKI-
GREECE
2010 VALERIE BACH GALLERY- BRUSSELS- BELGIUM
2009 AGATHI GALLERY-ATHENS
2009 MORFI GALLERY-LEMESSOS-CYPRUS
2008 TITANIUM GALLERY- ATHENS- HELLAS
2008 CK GALLERY – LEFKOSIA- CYPRUS
2008 F. KREMMIDAS HOUSE- KEFALLINIA- HELLAS
2007 ART POINT GALLERY INTERNATIONAL-BELGIUM
2007 KAPOPOULOS GALLERY – ATHENS
2007 ART GALLERY,ALEXANDROUPOLIS
2005 ALLA ROGERS GALLERY – WASHINGTON DC. USA
2005 CK GALLERY- NICOSIA- CYPRUS
2005 MUSEUM OF MODERN ART-SKOPJE
2004 CATHERINE NIEDERHAUSER GALLERY- LAUSANNE-
SWITZERLAND
2004 COVALENCO GALLERY- THE NETHERLANDS
2003 PNYKART FOUNDATION- PIRAEUS- GREECE
2003 EIRMOS GALLERY- THESSALONIKI- GREECE
2002 CARTEL GALLERIES GRANADA- SPAIN
2002 COVALENCO GALLERY- THE NETHERLANDS
2002 TITANIUM GALLERY- ATHENS- GREECE
2001 KOUROS GALLERY NEW YORK- USA
2001 NIEDERHAUSER GALLERY LAUSANNE- SWITZERLAND
2001 CARTEL GALLERIES- GRANADA- SPAIN
2001 MORPHI GALLERY- LEMESSOS CYPRUS
2001 INTERNATIONAL ART FAIR –ART ATHINA 9- ATHENS-GREECE
2000 GALLERY K LONDON- ENGLAND
2000 INTERNATIONAL ART FAIR LINEART 2000 (ART POINT GALLERY)
GHENT- BELGIUM
2000 COVALENCO GALLERY –THE NETHERLANDS
1999 INTERNATIONAL ART FAIR ART ATHINA 7- (EIRMOS GALLERY)
ATHENS- GREECE
1999 AGATHI GALLERY- ATHENS- GREECE
1999 TITANIUM GALLERY- ATHENS GREECE
1999 MORHI GALLERY- LEMESSOS- CYPRUS
1999 ARTE+SUR- FERIA INTERNACIONAL DE ARTE CONTEMPORANEO
(Honorary participation) SPAIN
1998 CARTEL GALLERIES MALAGA- SPAIN
1998 EIRMOS GALLERY THESSALONIKI
1998 CARTEL GALLERIES GRANADA- SPAIN
1998 INTERNATIONAL ART FAIR LINEART 98 (BLUE POINT GALLERY)
GHENT- BELGIUM
1998 TITANIUM GALLERY- ATHENS- GREECE
1998 BARBARA VON STECHOW GALLERY FRANKFURT- A.M GERMANY
1998 FERIA INTERNACIONAL DE ARTE CONTEMPORANEO DE
BALEARES (Honorary participation)- SPAIN
1998 FERIA INTERNACIONAL DE ARTE CONTEMPORANEO DE
ANDALUSIA- MALAGA-SPAIN
1997 OLGA GEORGANDEA GALLERY- ATHENS- GREECE
1997 INTERNATIONAL CONTEMPORARY ART FAIR ARCO -MADRID
SPAIN –SCULPTURE-
1996 RHAPSODY OF THE PRESENT- SCULPTURE- TITANIUM GALLERY
ATHENS- GREECE
1994 INTERNATIONAL FESTIVAL OF TODI-PALAZZO PONGELLI- ITALY
1993 NIEDERHAUSER GALLERY –LAUSANNE – SWITZERLAND
1993 UNO- PALAIS DE CONGRESS (Honorary participation) GENEVA- SWISS
1993 GALLERY K – LONDON ENGLAND
1993 EIRMOS GALLERY- THESSALONIKI- GREECE
1993 TITANIUM GALLERY- ATHENS- GREECE
1992 CATRIN ALTING GALLERY- ANTWERP-BELGIUM
1992 CIEL GALLERY – TOKYO- JAPAN
1992 INTERNATIONAL ART FAIR TOKYO ART EXPO- TOKYO- JAPAN
1991 INTERNATIONAL ART FAIR LINEART 91- GHENT-BELGIUM
1991 SADLER WELLS THEATRE LONDON- ENGLAND
1991 GALLERY K -LONDON- ENGLAND
1990 TITANIUM GALLERY ATHENS- GREECE
1986 EIRMOS GALLERY- THESSALONIKI- GREECE
1986 ZYGOS GALLERY –ATHENS- GREECE
1984 ASTIR PALACE GALLERY- RHODES GREECE
1984 ORA GALLERY- ATHENS – GREECE
1981 NEPHELI GALLERY-ATHENS-GREECE
1980 CULTURAL CENTRE OF THESSALONIKI
1979 KYKLOS GALLERY- THESSALONIKI- GREECE
1978 KYKLOS GALLERY-THESSALONIKI- GREECE
1975 EDESSA CULTURAL CONTEMPORARY ART CENTRE
1974 GOETHE INSTITUTE- THESSALONIKI- GREECE
GROUP EXHIBITIONS-SELECTION
2019 "CULTURAL MEMORY II", ARCHAIOLOGICAL MUSEUM OF MILOS – GREECE
2017 "DIALOGUE WITH EMPEROR QIN-EU AND CHINA SCULPTURE
SHOW", BRUSSELS- BELGIUM
2017 MINIMA GALLERY, MYKONOS, GREECE
2013 "OFFER", NATIONAL ARCHAEOLOGICAL MUSEUM OF GREECE,
ATHENS, GREECE
2013 "DIALOGUE WITH EMPEROR QIN-EU AND CHINA SCULPTURE
SHOW",TAALIN, ESTHONIA
2012 "DIALOGUE WITH EMPEROR QIN-EU AND CHINA SCULPTURE
SHOW", HUBEI MUSEUM, CHINA
2012 "DIALOGUE WITH EMPEROR QIN-EU AND CHINA SCULPTURE
SHOW", NINGBO MUSEUM, CHINA
2012 "DIALOGUE WITH EMPEROR QIN-EU AND CHINA SCULPTURE
SHOW",SUZHOU MUSEUM, CHINA
2012 "DIALOGUE WITH EMPEROR QIN-EU AND CHINA SCULPTURE
SHOW", HEILONGJIANG MUSEUM, CHINA
2011 "DIALOGUE WITH EMPEROR QIN-EU AND CHINA SCULPTURE
SHOW", SHAANXI MUSEUM, XIAN, CHINA
2011 "SEA LANDS"-ERMOUPOLIA-SYROS ISLAND-GREECE
2010 " TRACING ISTANBUL"- CHALKI'S THEOLOGICAL SCHOOL-
KONSTANTINOPOLIS-TURKEY
2010 "SCULPTURES IN THE GARDEN" BOTANICAL GARDEN
ARGOSTOLI, KEFALLONIA-GREECE
2009 "HAPPENED TO ATHENS" -CULTURAL CENTER OF ATHENS
MUNICIPALITY –MELINA-
2009 "RESIST" UNESCO-TECHNOPOLIS- GAZI- ATHENS- GREECE
2008 "SILENT DIALOGUES-MULTIMEDIA PORTRAITS THROUGHOUT
TIME, ACG ART GALLERY, AMERICAN COLLEGE OF GREECE ,
ATHENS
2008 "MATERIAL LINKS", TECHNOPOLIS, GAZI, ATHENS
2008 "IN PRAISE OF THE OLIVE" GREEK MINISTRY OF CULTURE-
BEIJING -CHINA-
2008 ART ATHINA 2008 –TITANIUM GALLERY ATHENS
2008 "MATERIAL LINKS" MUSEUM OF MODERN ART -SHANGHAI-
CHINA -GREEK MINISTRY OF CULTURE
2008 "ART BEYOND SIGHT" STATE MUSEUM OF CONTEMPORARY ARTS
THESSALONIKI- METROPOLITAN MUSEUM OF MODERN ART
(M0MA) NEW YORK- TATE MODERN- LONDON- VICTORIA AND
ALBERT MUSEUM- LONDON
2008 GREEK ART- GREEK MINISTRY OF TOURISM- BEIJING- CHINA
2007 " VISUAL ARTS 2" STATE MUSEUM OF CONTEMPORARY ART
THESSALONIKI- HELLAS
2007 PLACE OF BIRTH-BENAKIS CONTEMPORARY ART MUSEUM-
ATHENS-GREECE
2007 CONTEMPORARY GREEK PAINTING-MOSCOW MINISTRY OF
GREEK TOURISM-MOSCOW CONSERVATORY
2007 REFLECTIONS FROM GREECE- BELGRAVIA GALLERY, LONDON-UK
2006 MASQUERADE – STATE MUSEUM OF MODERN ART- THESSALONIKI
2006 IN PRAISE OF THE OLIVE- HELLENIC MINISTRY OF CULTURE-
ORGANIZATION OF THE UNITED NATION- UN- NEW YORK
2006 REFERENCE TO PENELOPE DELTA- ATHENS COLLEGE- GREECE
2006 REFLECTIONS FROM GREECE- NATIONAL ARTS CLUB- NEW YORK-
USA
2005 "SACRED AND PROFANE" ASPECTS OF THE FEMALE IN MODERN
GREEK ART, 1930-2005. MUNICIPAL MUSEUM OF CRETE- GREECE
2005 ZAKYNTHOS MUSEUM, MINISTRY OF CULTURE- -MODERN GREEK
ART- (G. KOSTOPOULOS COLLECTION)
2004 HYOGO MUSEUM OF MODERN ART- INTERNATIONAL
CONTEMPORARY EXHIBITION- JAPAN (REPRESENTED GREECE)
2004 STATE MUSEUM OF MODERN ART- COSMOPOLIS- 1st BALKAN
CONTEMPORARY BIENNALE- THESSALONIKI- GREECE
2004 MACEDONIAN MUSEUM OF MODERN ART- SCULPTURE-
THESSALONIKI – GREECE
2004 ABSOLUTE AMERICANA MUSEUM- FLORIDA- USA
2002 RHODES MUSEUM OF CONTEMPORARY ART-RHODES-GREECE
2001 TOULOUSE LAUTREC- THE MYTH OF THE WOMAN. (Framed by the
Exhibition, the Myth of the woman in contemporary Greek painting) MUSEE
D'ART CONTEMPORAIN –FONDATION BASIL ET ELISE
GOULANDRIS- ANDROS-GREECE
2001 CAESAREA GALLERY- BOCA RATON-FLORIDA-USA
2001 ART ESSENTIALS- CALGARY-CANADA
2001 INTERNATIONAL ART FAIR, ART TEXAS 2001
2001 THE BODY- VAFOPOULION CULTURAL FOUNDATION- GREECE
2001 SUMMER ASCENSION- YIAYIANNOS GALLERY- ATHENS-GREECE
2000 ART 21 – LAS VEGAS- NEVADA- USA
2000 CAESAREA GALLERY-BOCA RATON-FLORIDA-USA
2001 CONTEMPORARY GREEK ARTISTS- PIERIDES MUSEUM ATHENS GR
2000 GREEK SCULPTURE IN HOLLAND-COUZI GALLERY-HOLLAND
1999 INTERNATIONAL ART FAIR –LINEART 99- ART POINT GALLERY
GHENT- BELGIUM
1999 FUTURE NO FUTURE- HOTEL DU VILLE- BRUSSELS-BELGIUM
1999 MORHI GALLERY- LEMESSOS- CYPRUS
1998 PARALLELS IN LITERATURE AND ART-DEPARTMENT OF
ENVIRONMENT AND PUBLIC WORKS-DIMITRIA 98-THESSALONIKI
BASILICA OF SAINT MARCUS-HERAKLION-CRETA
1998 BYZANTIUM AS A DRIVING FORCE-ATHENS-ZURICH-BRUSSELS
1997 MEDITERRANEAN ENCOUNTERS- NATIONAL MUSEUM OF
DUBROVNIK (in collaboration with Greek ministry of culture and VORRES
MUSEUM) DUBROVNIK- JULY-OCTOBER 97
1997 ARTESUR- ARTE CONTEMPORANEO GRIEGO-A TRIBUTE TO
CONTEMPORARY GREEK ART-GRANADA-SPAIN
1997 X I INTERNATIONAL BIENNALE OF CULTURE- SKYRONION
MUSEUM ATHENS- POLICHRONOPOULOS MUSEUM-
KORINTHOS GR
1996 ATHENS-ATTIKI: PLANNING, INTERVENTION, PROJECTS FOR A
VIABLE DEVELOPMENT- MODERN GREEK SCULPTORS-(dp. Of
Environment, planning and public works) ZAPPION MEGARON- ATHENS
1995 GREEK SCULPTURE- GREEK CENTRE OF PRODUCTIVITY-ATHENS
1995 TRIBUTE TO DOMINICOS THEOTOCOPOULOS- NATIONAL
GALLERY OF GREECE- ATHENS
1995 BRITAIN IN GREECE- FRIENDS OF THE NATIONS- ATHENS-LONDON
CONTEMPORARY GREEK ARTISTS –NATIONAL GALLERY OF
RHODES- GREECE
1995 PSYCHOANALYSIS OVER COLOUR-TITANIUM GALLERY ATHENS-GR
1995 STILL LIFE IN GREEK PAINTING 1949-1995 EIRMOS GALLERY
THESSALONIKI-GREECE
1995 INTERNATIONAL ART FAIR-ART ATHINA 3-EIRMOS GALLERY-
ATHENS-GREECE
1995 HONORARY PARTICIPATION IN THE XXI TODI FESTIVAL-ITALY
1994 VOLKSWAGEN GROUP COLLECTION-TITANIUM GALLERY ATHENS
1993 XX PREMIO DI SULMONA INTERNAZIONALE –MUSEO CIVICO-
PALAZZO DELL' ANNUNZIATA (1st PRIZE)
1993 CONTEMPORARY TENDENCIES IN GREEK PAINTING-GIORGIO
CHIRICO MUSEUM-VOLOS-GREECE
1993 OSAKA TRIENNALE 93- OSAKA MUSEUM OF CONTEMPORARY ART
OSAKA- JAPAN (SPECIAL AWARD)
1993 ART 93 – BUSINESS DESIGN CENTRE –LONDON-ENGLAND
1992 EIRMOS GALLERY-THESSALONIKI- GREECE
1992 CONTEMPORARY TENDENCIES IN GREEK PAINTING-COTOPOULI
MUSEUM- ATHENS- GREECE
1992 CIEL GALLERY-TOKYO-JAPAN
1992 CATRIN ALTING GALLERY-ANTWERP-BELGIUM
1992 NEW BP COLLECTION-BP GALLERY- BRUSSELS –BELGIUM
1992 ART PUZZLE- ZAPPION MEGARON-ATHENS-GREECE
ART PUZZLE- MUNICIPAL CULTURE CENTRE OF ATHENS
1992 NOCTURNAL PASSAGE -TITANIUM GALLERY- ATHENS-GREECE
1992 EUROPEAN CONTEMPORARY ART-MITO CITY-JAPAN
1991 GALLERY K – LONDON-ENGLAND
1991 GREEK ARTISTS IN INTERNATIONAL ART CENTRES-TITANIUM
GALLERY-ATHENS-GREECE
1991 VICKY DRACOS CENTRE OF CONTEMPORARY ART-ATHENS GR
1991 SUMMER 91-TITANIUM GALLERY-ATHENS-GREECE
1990 YOUNG EUROPEAN ARTISTS- BP GALLERY-BRUSSELS-BELGIUM
1990 OSAKA TRIENNALE 90 –OSAKA-JAPAN
1990 GREEK ARTISTS IN INTERNATIONAL ART CENTRES-TITANIUM
GALLERY- ATHENS-GREECE
1990 SUMMER 90-TITANIUM GALLERY-ATHENS-GREECE
1990 COLOUR AND EXPRESSIONISM-MUNICIPAL GALLERY OF
CALAMATA- GREECE
1990 TRIBUTE TO BOUZIANIS –MUNICIPAL GALLERY OF ATHENS-GR
1989 6+6 TRIBUTE TO THE FRENCH REVOLUTION- ATHENS-NIMES-PARIS
1989 THE FACE AS A MASK – CASES OF GREEK EXPRESSIONISM
PATRAS CULTURAL CENTRE-GREECE
1988 CONTEMPORARY GREEK ARTIST- MOSCOW MUSEUM-USSR
1987 PANHELLINIC EXHIBITION OF MODERN ART- OLP-PIRAEUS GR
1986 SYNOPSIS 86 ZYGOS GALLERY- ATHENS- GREECE
1983 GREEK ART- MUSIC CONSERVATORY-ATHENS-GREECE
1982 NEPHELI GALLERY-ATHENS-GREECE
1980 KYKLOS GALLERY THESSALONIKI-GREECE
1974 GOETHE INSTITUTE- THESSALONIKI-GREECE
PRIZES – DISTINCTIONS
1st PRIZE AT THE XX INTERNATIONAL PREMIO DI SULMONA-ITALY
SPECIAL DISTINCTION AT THE OSAKA TRIENNALE 93-OSAKA-JAPAN
SPECIAL DISTINCTION- YOUNG EUROPEAN ARTISTS 1990- BP COLLECTION- BRUSSELS-BELGIUM
SPECIAL PRIZE- YOUNG EUROPEAN ARTISTS 1992-BP COLLECTION BRUSSELS- BELGIUM