Iannis Xenakis and Yannis Papayannis: the spiritual encounter of two artists who not only do they share the same name but also an eloquent expressive art style which is readily, clearly and effectively dominant throughout their art creations even though they represent different genres of art.
Romanian-born Hellene-French Iannis Xenakis (1922-2001), the widely known and esteemed avant-garde composer, was a very special person, further performing with great success as music theorist, architect, performance director and engineer.
He has been a pioneer, one of the first settlers to use mathematics, statistics and physics into music, and till today constitutes a significant influence on the development of electronic and computer music.
He applied mathematical models to his compositions, as for instance the statistical mechanics of gases, or such concepts of mathematical logic as the set theory, the game theory, along with others, while developing stochastic processes like the synthesizer algorithm (used in GENDY) called dynamic stochastic synthesis.
Additionally, he integrated music with architecture by designing syntheses for pre-existing spaces or by designing spaces to be interconnected with specific musical compositions and performances.
On this wise, considered to be one of the leading figures in the field of modern and electronic music, Iannis Xenakis continues to inspire several artists, including the prominent Hellene contemporary painter Yannis Papagiannis (b. 1962) whose latest oeuvres are greatly influenced by the composer's Iannis Xenakis musical assemblies, their sonic motifs and acoustic effect.
The act of gestural abstraction is a constant in the long career of Yannis Papayannis, drawing upon an overall free way of creating art in accordance with a textural style of linear narratives and associations among written phrases, metaphors and symbolisms.
Still, in his most recent series of works, his listening engagement with certain pieces of music, considerably with Iannis Xenakis music compositions, led him becoming even more involved into abstract patterns of form, colour and line, revealing supreme mastery and skill. As himself expresses in words '…it was an instinctive path which started by listening to the music, scribbling on paper, unrolling and rearranging my Guests and later by changing, reconsidering and amending the images on the canvas'.
On the occasion of the 100th anniversary of the birth of Iannis Xenakis, Yannis Papayannis was chosen and invited by the Deanery of the School of Philosophy of the National Kapodistrian University of Athens (EKPA) in order to create two murals of monumental dimensions dedicated to the great composer.
Responding – pro bono – to the honourable public-art project invitation, Yannis Papagiannis painted on the outer walls inside the School of Philosophy building the following site-specific works accessible to the general public:
Persepolis (204 x 630 cm), interpretated into a kaleidoscopic agitated arrangement which follows the sounds and structure of Iannis Xenakis homonymous music composition.

Eontas (215 x 285 cm) arranged in circular form that condenses within a limited space numerous elements the collision of which creates a particularly solid and firmly united output.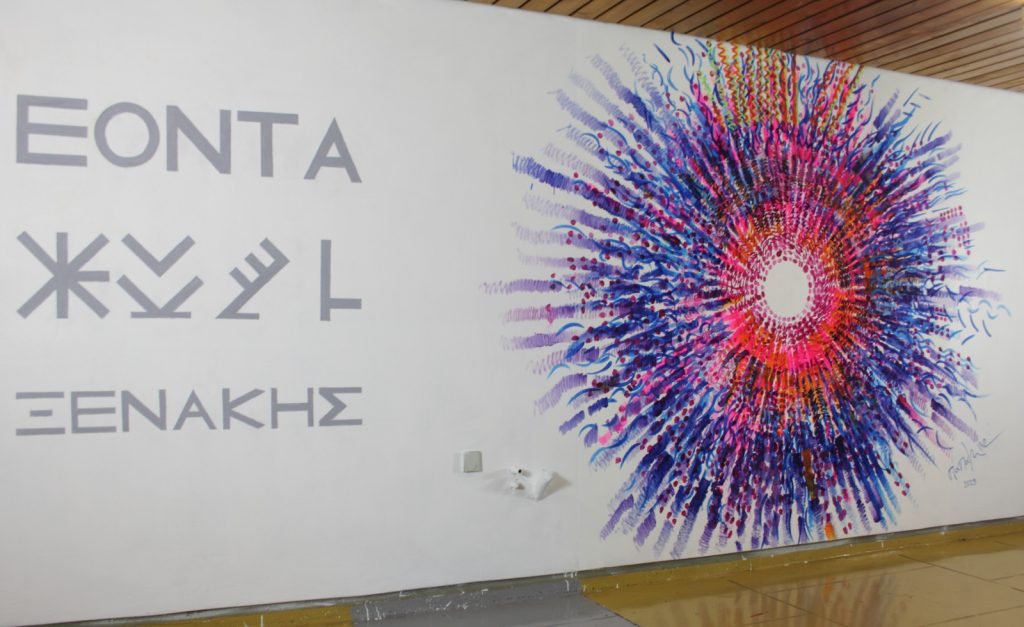 Centred on an expressionism-based practice, Persepolis and Eontas are considered as part of the artist's overall tendency and attitude of mind towards more tuneful compositions within an overall harmonious tonal framework designated by a certain piece of music. Abstracted forms, intense brushstrokes and a strong colour palette much like deliberately and intentionally aspire to emulate musicality and provoke contemplation as they 'keep going' with melodies, sounds and tones.
In fact, with the scaling of the dimensions of the painting surface up onto the walls of the free space of a public venue like the National University, Yannis Papayannis stands to further affect the relationship between music and image placing both in new context and challenging at the same time their social impact. Significantly, he lays emphasis on icons that have a substantial stimulus on our experience of space, and twines with his gestural brushstrokes the units of energy that flow through the walls of the building.
Referring to these works he says: 'For the realization of this work, I would like to thank the Professor of History of Art, Dimitris Pavlopoulos, who proposed and supported this intervention at the School of Philosophy as well as the Dean, Achilleas Chaldaiakis, who adopted the proposal and provided every facilitation until its completion.
I enthusiastically accepted your invitation to paint two murals inside the School of Philosophy building. To paint a wall means that it ceases to be a simple smooth surface. A complex language is being written on it. Images are being formed, the art of painting is being established. Professors, staff, students and visitors experience the transformation of the free space of the School into a space of images, ideas and artistic views, outcomes of another language, demonstrating different ways of speaking and expression. I hope that, with the images I created, the students of the School will aware that these works represent them'.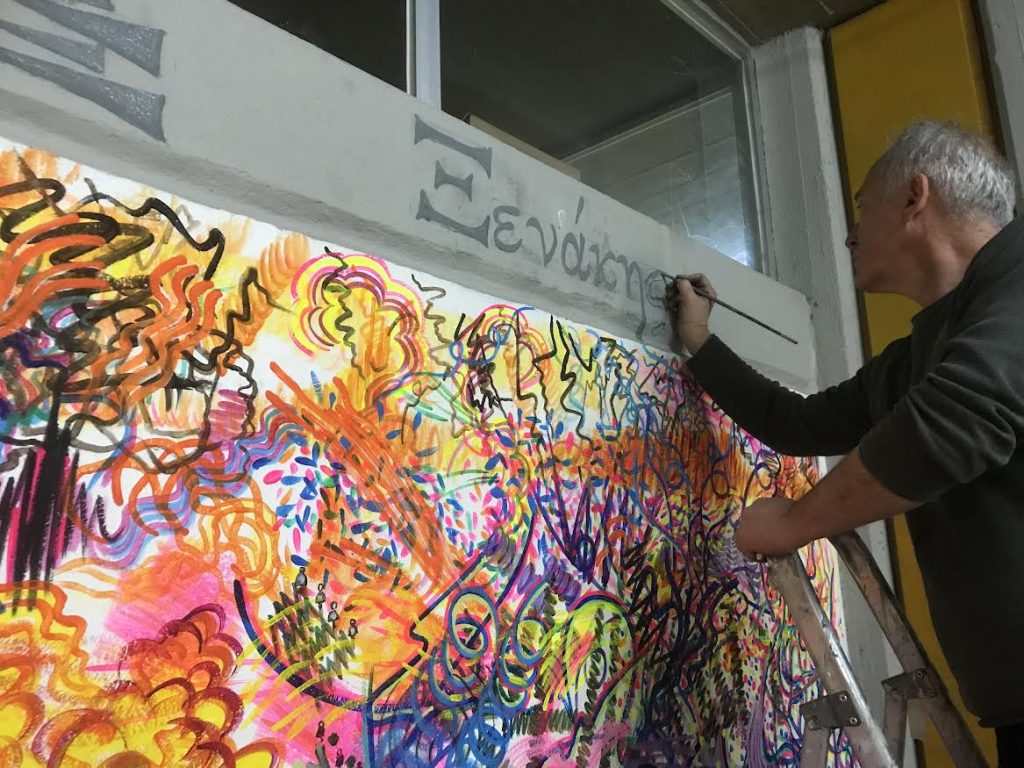 The whole team of |'n Art|, even more myself being a graduate of the Athens School of Philosophy, are excited and especially proud of Yannis Papayannis and in particular of this artistic intervention of his at the School.
|'n Art| has delightedly developed a long-term collaboration with Yannis Papagiannis whose oeuvres we are supremely favoured to display on our gallery. Radically distinctive and without equal, the works of Yannis Papayannis, much attached to music themes, especially the recent ones, insert in a subtle manner dissonance, like a disagreeable auditory experience that lacks cohesion yet achieve harmony and a congenial combination, in the same way to the entirety of Iannis Xenakis total music output.
Within this framework, just as human's gestures reflect personal feelings upon particular instants, correspondingly Yannis Papayannis' murals, Persepolis and Eontas, express both deep emotions and subconscious reactions upon listening to music, and more specifically to Iannis Xenakis sort of music, by further becoming an automatic pattern of the artist's behaviour in reflex to this particular and special loved situation to him. The osmotic force of this desire is further stated via a portrayed explosive gesturalism and a powerful colour selection.
As a tribute to the 100th anniversary of the birth of Iannis Xenakis, the great composer's avant-garde music, being integrated into the Hellenic National University space through Yannis Papayannis' abstract gestures, re-originates, takes on new shape and begins a new cycle of existence through a different art form.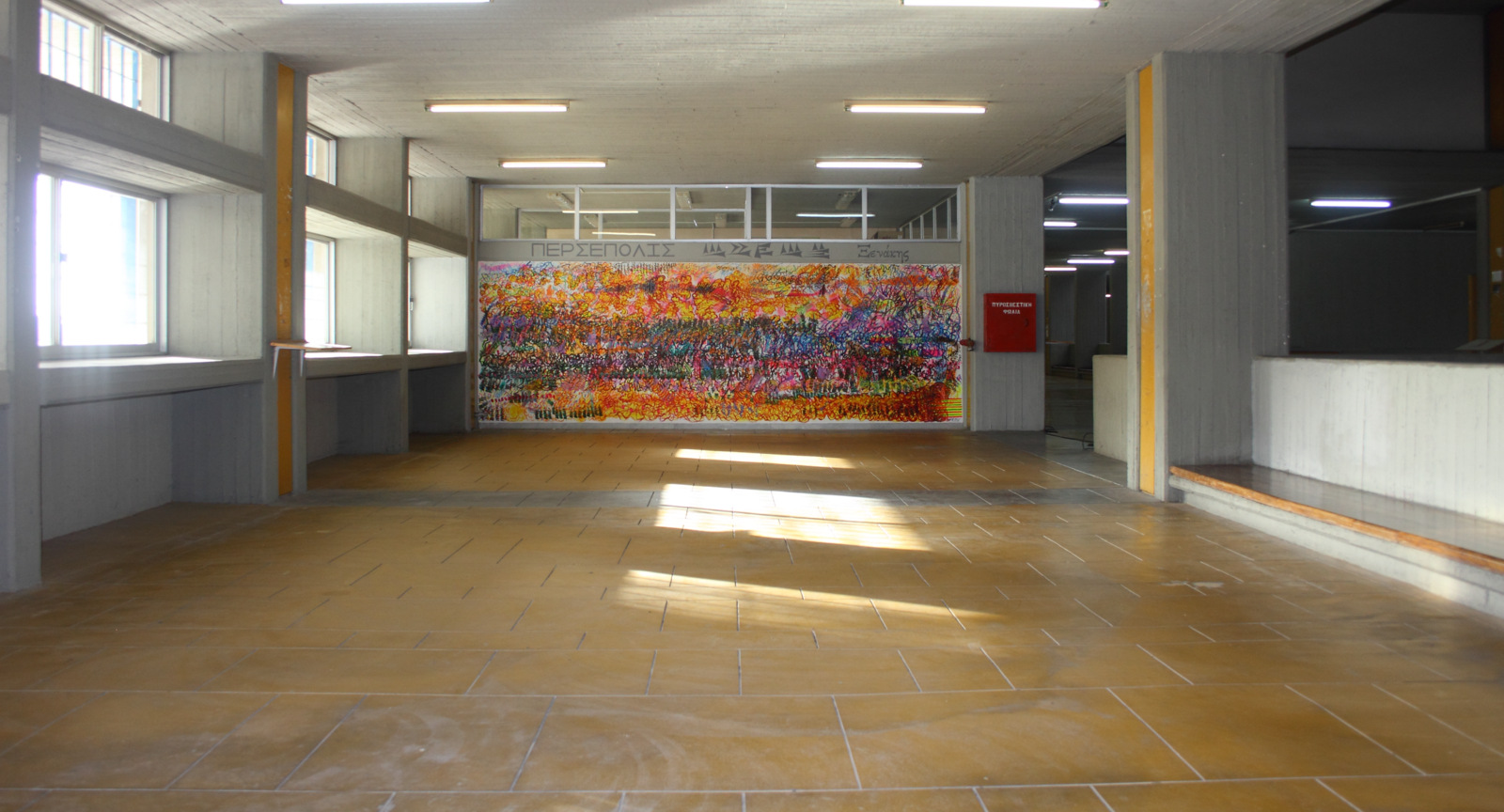 Noiselessly, being there for everyone, Persepolis and Eontas, occupy a unique position within the student life, give the chance to the student community to be inspired and intrigued, and eavesdrop the pulse of the society as a whole.
We kindly suggest you visit the premises of the School of Philosophy in order to 'experience the transformation of the free space of the School into a space of images', as the artist himself describes.
Congratulations Yannis!
Archaeologist – Art Historian | Museologist | Curator nellyfili@n-art.org
Founder of |'n Art| Art & Publishing House www.n-art.org
Official Partner of the International Foundation for Greece (IFG) www.if-gr.org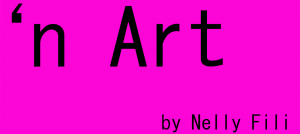 Art and Publishing House
Art Gallery – Trading – Auctions
Archaeology – Art History | Museology | Curating
Museum and Gallery Management
w: n-art.org